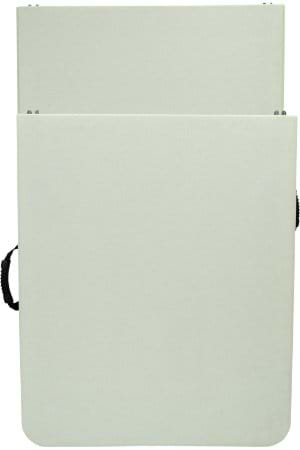 Now that we are in the depths of the summer months we thought that this is the perfect time to introduce you to our new 6-ft NES Reliable Rectangular Plastic Fold in Half Tables and 8-ft NES Reliable Rectangular Plastic Fold in Half Tables. Why is summer the perfect time to introduce these tables? Because of all the outdoor activities that everyone is partaking in of course!
The Fold in Half tables are perfect for picnics, BBQ's, family gatherings, and events of all kind. While their set up size is not an advantage over our normal 6-ft and 8ft Rectangular Tables, being able to fold them in half certainly is. A normal car cannot fit a 6-ft long table let alone an 8-ft long table which makes them impractical to move around without a large vehicle. An 8-ft Fold in half table on the other hand becomes 4-ft long once folded and the 6-ft becomes just 3-ft long once folded. The 6-ft in particular is a great size to slide into the trunk of your car and you don't even need to worry about folding down your back seats.
By now you may be wondering why these are a great investment for your rental business when they are so great for the average consumer. They are great for your business because many customers would like to be able to pick up 1-3 rental tables for their family event. Picking up is not possible for most customers when the tables do not fold in half. This leaves many needing you to deliver which is an expensive proposition when they only need a few tables. As a result many find alternatives to renting; including buying, borrowing, and even pulling out the old vinyl top card table (click here for a better card table solution). While losing a small order may not seem like a big deal it is likely to lose future business which could be much more valuable. As a result the NES Reliable Rectangular Plastic Fold in Half Tables are the perfect solution to prevent this from happening.
If you would like additional information about the 6-ft and 8-ft NES Reliable Rectangular Plastic Fold in Half Table, or if you would like to receive a quote, don't hesitate to contact us!