This past weekend I had the pleasure of exhibiting at the 2013 CRA Prairie Regional Trade Show in Saskatoon. Because we are still pretty much in the thick of winter for many parts of Canada, I flew into Saskatoon on Thursday just to make sure I wouldn't have any weather related issues getting to the Prairieland Exhibition Centre and getting set up in time for the show.
I made it with no issues although I will admit it was pretty darn cold and there was lots of snow everywhere. I met up for dinner with our National Event Supply Western Canada sales team at our usual haunt, Chianti's Café on Idylwild and 22st St East, which is just a few short blocks from our Radisson Hotel Saskatoon. Here I thought it was the only location that Chianti's Café had—it turns out they have 7 restaurants in Calgary, Edmonton, and Saskatoon. And from how busy it was on Thursday, we can definitely say the food is always great.
Friday morning we woke up to a light snowfall and only -12C and headed over to the Prairieland Exhibition Hall so we could beat the rush of other exhibitors who would all be trying to get in through the single truck door that entered the Hall. For the 1st time ever Will decided to have all his equipment trucked in and our show skids were delivered by a 53ft trailer rather than try to trailer it all from Red Deer. This was a great decision as everything went quite smoothly (at least on the move in) and we were all set up by early in the afternoon.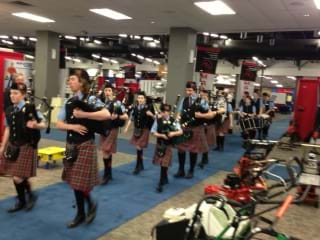 On Saturday morning we all headed back to the Exhibition Hall in time for the 96th Highlanders Bag Pipe and Drum band to open the show. While it took some time for the rental stores to make it to the back of the hall where we were exhibiting, within the first hour we started to have attendees stop by. Keith Andrews, the President of CRA Saskatchewan and Prairieland Rental Centre in Regina stopped by and was pleased to hear we were giving away a Black Folding Bar Height Chair to all attendees that met with us at the show. At last year`s show we gave out one of our very popular Tall Folding Cocktail Tables so this was a great way for the customers to get exposed to some of our more popular plastic folding tables and chairs. As we went through the day I could tell those that did get a free Tall Folding Cocktail Table last year, definitely remembered us.
As in prior years, Brian from Handy Special Events stopped by to check out our product display. He was particularly impressed with the look and feel of our new Serenity line of Crystal Wine Glasses and our always popular Resin Chiavari Chairs which feature a steel core for enhanced durability and strength. He also spent a fair bit of time examining our new improved plywood folding tables. Our new wood folding tables feature 13 layers of plywood, Canadian hardwood for the underside rails, bolts through table top construction and 1.2mm thick steel tubing for leg frame structure all providing a durable and strong wood folding table. I could see Brian was giving our wood folding tables a serious look over.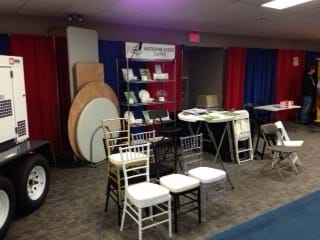 This was our 3rd year of exhibiting at the Prairie show and each time we meet with more new Customers from Manitoba, Saskatchewan and Alberta. I find it amazing how far our Prairie friends are willing to drive to support the event and attend the evening dinner and festivities. The show finished at 4pm which gave us a very short amount of time to get packed up and ready for the evening dinner and entertainment. It's always great to get together with our old and new friends and relax with a nice glass of wine and a hearty roast beef supper!
Jeff Campbell the CRA National President (and President of St. Thomas Rent-All) was on hand to take part in the festivities as well as update everyone on what the CRA National organization is working on for the benefit of members and associate members. One of the programs that Jeff announced was the ability for Members and Associate Members to have a professional PR firm (High Impact Public Relations) help publish a newsworthy subject to the marketplace. High Impact PR was instrumental in getting the message out to the community of St. Thomas, Ontario for Jeff`s step up to become the President of Canadian Rental Association. Jeff is now a celebrity in the community and he has seen a rise in the number of visits to his store which is definitely a plus for his winter business.
We're heading to St Hyacinthe, Quebec for Quebexpo next week. This is our last trade show of the season, and we hope to see you there. If you haven't been able to get to a trade show to see us, why not check out our new catalogue?