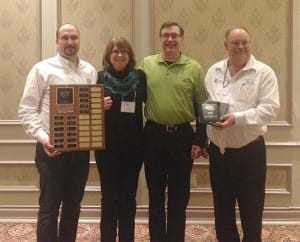 National Event Supply, is proud to announce we have been named the Canadian Rental Association Ontario Division's Supplier of the Year. Presented by the Ontario Board of the Canadian Rental Association (CRA) at the CRA Ontario Awards Banquet, National Event Supply received the award for its unending support of the party rental industry through leadership, first class customer service and quality event equipment such as folding tables, chiavari chairs, white resin folding chairs, event linens and much more.
The Supplier of the Year award is presented annually to the Associate Member who is a leader in supplying products, knowledge, is dedicated to the advancement of the rental industry and regularly supports the Association. Suppliers were voted on by CRA peers through online submission and during the January Canadian Rental Association Ontario Meeting. Suppliers eligible for consideration in this category include all registered Associate Members of the CRA across the country including equipment suppliers, tool suppliers and party rental suppliers in the industry.
"National Event Supply has shown members in the Ontario Division of Canadian Rental Association they are committed to providing the party rental industry with both increased customer support in the form of new inventory such as event linens and outdoor patio heaters as well as ensuring their customer's maintain the ability to rent out quality products that will enhance their reputation. We applaud their efforts and look forward to their continued success," said Dale Brinklow, President, CRA Ontario.
For more information regarding the award, please refer to the full press release.