Spring Comes Early with Propane Patio Heaters
We've been busy this winter sourcing new products to offer our party rental and restaurant clients to help them differentiate themselves. In addition to bringing in stretch table covers to fit 6 ft. tables, stretch table covers to fit 8 ft. tables, stretch table covers to fit highboy tables, round polyester linens, and rectangular polyester linens, we are pleased to announce the addition of the NES Reliable Commercial Outdoor Patio Heaters to Canada.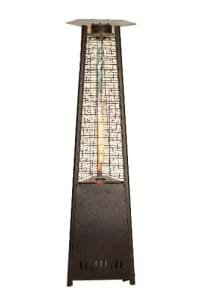 This propane patio heater has been tested by one of the largest party rental companies in North America, Raphael's Party Rental, and has been outfitted with wheels and handles to make transportation and movement easy. Also suitable for restaurant use, these outdoor patio heaters make a stylish and contemporary addition to any dining patio.
Additional features include:
Available in Charcoal Gray or Bronze
Runs on 20lb (standard bbq size) propane tank
8mm thick metal throughout heater
Clear glass fire tube, made with Borosilicate glass is 4" diameter and resistant to high heat and shattering
Reinforced mesh screen
Easy start, electric ignition