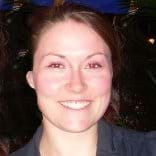 National Event Supply (NES), a leading factory-direct wholesaler to the party and event rental, foodservice and hospitality industry, is pleased to announce the appointment of Stephanie Heathcote, who will join the NES team as Senior Marketing Operations Manager. Stephanie's proven background in planning and executing brand awareness and corporate marketing campaigns will help ensure NES continues to grow at record pace and further its leadership position within the party rental, hospitality and foodservice markets. "With more than 20 years of experience supplying Canada's party rental industry, and a customer service team focused on providing quality products, fast shipping and great service for our clients, National Event Supply is ready for rapid growth." Stephanie Heathcote went on to say, "I'm really excited to be a part of the NES team and hope to contribute towards their future growth."
Stephanie comes to National Event Supply with 6 years of experience in B2B marketing in the high-tech software industry. Most recently, she was Manager, Marketing Programs at Asigra, an enterprise cloud backup and recovery software company, where she managed a team of 3 inside sales and marketing professionals, planned and implemented corporate marketing promotional programs and co-managed the creation, planning and execution of the company's annual customer conference for up to 500 attendees. She has a Bachelor of Commerce from University of Ontario Institute of Technology with a specialization in Marketing.
Stephanie's appointment comes at the conclusion of another year of very good growth for the company thanks to its loyal customer base. "National Event Supply is experiencing significant year-over-year growth and great customer interest in the wake of the launch of our new English and en français website," said Dennis Heathcote, Co-President at National Event Supply. "Stephanie's experience implementing a wide variety of B2B marketing campaigns, track record of success, and business acumen are exactly what the company needs for its next phase of growth."
To learn more about National Event Supply, visit: http://www.nationaleventsupply.com
Follow National Event Supply on Twitter at: http://twitter.com/NatlEventSupply
About National Event Supply
Trusted since 1992, National Event Supply is one of Canada's leading factory-direct wholesalers to the party and event rental, foodservice and hospitality industry. At National Event Supply, we're focused on delivering commercial-quality products, superior customer service, and forming positive, long lasting relationships with our customers.
National Event Supply is a family owned and operated business with locations including a showroom and warehouse in the greater Toronto area and a warehouse in Vancouver, BC.