At National Event Supply we are constantly bringing in samples of potential new inventory items and working with existing customers on custom items they're interested in stocking. We've been doing some cleanup of our showroom and warehouse and decided to get in the holiday spirit by donating a number of samples and over 250 barely used porcelain deep rectangular platters to local soup kitchens in the Greater Toronto Area and Mississauga. We had three non-profits including Good Shepherd Ministries, Syme Woolner Neighbourhood & Family Centre, and Eden Community Food Bank accept our donation.
Here is a picture of some of the items we donated: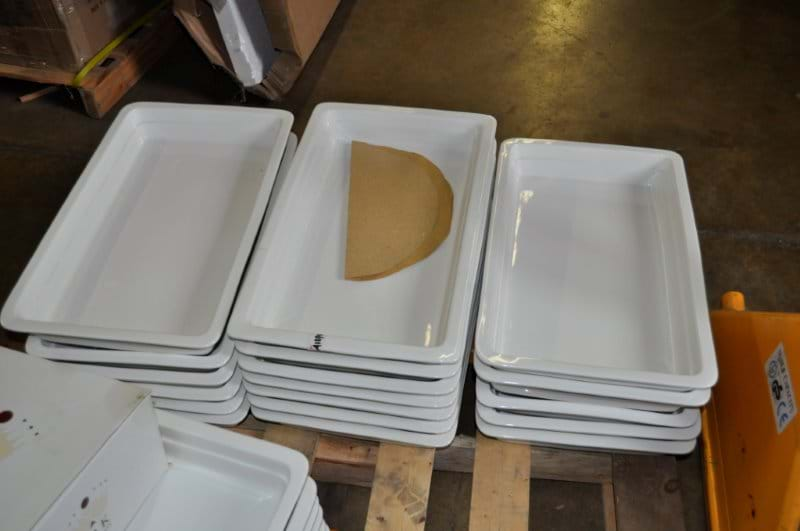 The Executive Director of Eden Community Food Bank reached out to us to say:
"Thank you for thinking about Eden Community Food Bank for your donation. They will be put to good use in our food bank and in our new Community Learning Kitchen."

Eden Community Food Bank is located in Mississauga, Ontario and is a non-denominational, charitable organization, working to eliminate hunger through food distribution to qualified individuals and families living in selected areas of Mississauga, as well as providing education and advocacy services to our clients and the general public.
If you're interested in spreading some holiday cheer by making a donation to help ensure those who need it most don't go hungry throughout the season, please feel free to reach out to the three organizations (links above) and help them out.
The team at National Event Supply are thrilled the items can be put to good use and hope to provide more non-profits around the area additional items in the future.