Winter hasn't been too bad here at National Event Supply. There was a little whining when the windchill reading dropped to -29 Celsius, but for the most part we've been surviving. The recent cold snap did get us thinking about tent heaters (and vacations to warm locales with beautiful beaches). Now, there aren't a lot of weddings happening, in tents, in Canada, in the dead of winter, but spring is coming. And while every bride hopes for gorgeous weather on her big day, tent heat may be needed for those spring and fall weddings. Even though we don't sell tents or tent heaters, we do sell to tent rental and party rental companies looking for these products and want to help our customers and potential prospects make educated decisions on the types of tent heaters to purchase. So we decided to take a look at the two different types of tent heaters and highlight the pros and cons for each.
The first major type of tent heater is a direct tent heater. Direct tent heaters heat the tent by forcing air over an open flame to produce hot air which is then ducted in to the tent. Direct tent heaters are usually fuelled by propane and are most efficient in totally enclosed tent applications.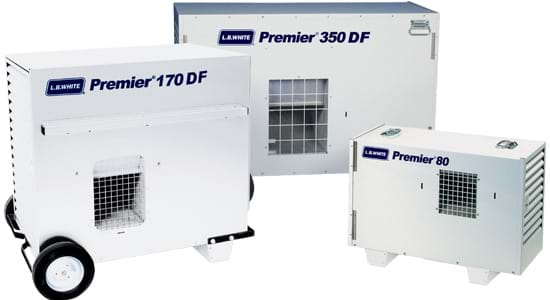 Photo Credit: L.B. White
Pros
Smaller than Indirect Tent Heaters due to lack of heat exchanger
Propane is an affordable and efficient fuel source
Fewer parts, simpler design, easy to use
Cons
Products of combustion are discharged into heated space
Exhaust can cause dizziness, burning eyes, nausea
Not allowed in some jurisdictions
The other major type of tent heater is an indirect tent heater. Indirect tent heaters have a heat exchanger much like the forced air furnace found in many homes. The fan of the heating unit blows air across the heat exchanger sending the hot air into the tent through ductwork. Indirect tent heaters are also usually fuelled by propane, although diesel units can be found. Indirect tent heaters are most commonly used in larger applications where clean, warm air is required.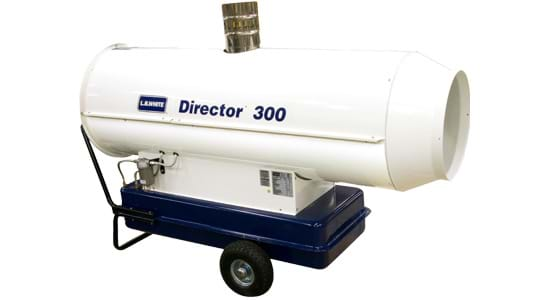 Photo Credit: L.B. White
Pros
The products of combustion is vented into the atmosphere as opposed to into the tent
Air blown into the tent is clean and warm
Quiet operation
Cons
Larger than direct tent heaters because of heat exchanger
More complex than direct tent heaters
Less efficient than direct-fired heaters
Depending on your jurisdiction, the choice between direct-fired and indirect-fired tent heaters may be a simple one. If not, you'll need to weigh the efficiency and ease of use of direct tent heaters against the better quality heat and larger size of the indirect tent heaters.
If you have any thoughts or preferences between direct tent heaters and indirect tent heaters, let us know on our Facebook wall, send us a tweet on @NatlEventSupply, or leave a comment on our blog! We always love hearing from you!