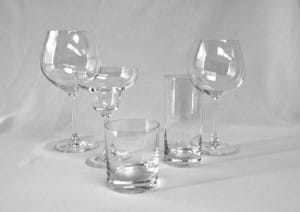 Events of all shapes and sizes including cocktail receptions, corporate events and in particular weddings have the need for crystal stemware. When banquet halls, hotels or party rental companies are looking for crystal stemware, one of the first questions we get asked is: How much is crystal stemware for event rental in Canada? Below we've rounded up the average cost one should expect to pay for crystal stemware for events.
Crystal stemware can be classified as any crystal glass that includes a stem – making up crystal champagne flutes, crystal wine glasses, crystal martini glasses, and crystal margarita glasses. If the event planner or bride prefers hand blown crystal, this can set you back more money as hand blown crystal tends to include the higher cost of expert glass blowing artisans who manually make each glass – a time consuming and labour intensive process. Alternatively machine made crystal allows a lower cost due to the amount of supply that can be produced in a shorter amount of time, on a more consistent basis.
The cost for crystal wine glasses ranges in price from $2.65 to $6.93 CDN per glass. The cost for crystal champagne flutes range from $2.85 to $7.33 CDN per glass. The cost of crystal martini glasses range from $2.85 to $8.15 CDN per glass. The cost of crystal margarita glasses range from $3.15 to $4.67 CDN per glass. The range in costs for all these products is because of the difference in labour costs, volume the glass holds, production time involved, and if the manufacturer is a very well-known brand.
Shipping for Crystal Stemware:
Crystal stemware is a notoriously tricky product to both stock and ship. Stocking the product is tricky because it takes up a large amount of space in order to properly store crystal stemware in a way there won't be breakage. Shipping the product is obviously tricky due to the high amount of breakage that can occur with such a delicate product. The shipping costs associated with crystal stemware is 1.32 to $2.83 CDN per glass. This varies based on volume purchased, weight of product being shipped and the location the product is being shipped to.
National Event Supply offers crystal stemware, crystal highball & crystal old fashioned glasses for party rental companies servicing weddings and other special events. To get a quote of our Serenity Crystal or Victoria Crystal lines: