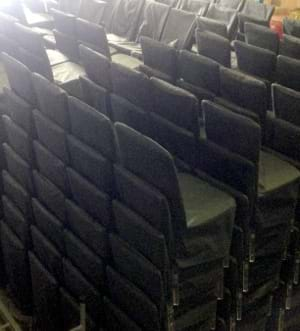 Continuing on our blog series answering our customers' and prospects' questions, today's question deals with the question: Can I buy bulk products from National Event Supply?
The short answer: Yes of course!
The long answer: Because we sell to party rental companies that can take 100s of folding tables, thousands of plastic folding chairs in bulk, and hundreds of dozens of bulk dishes or bulk cutlery, we have three warehouses in Canada to ensure we're able to meet all bulk purchases. While we can't foresee all large quantity orders, we do our best to ensure we have stock of our products when our customers require them.
Not only that, but because of this and how we like to encourage bulk purchases we offer on certain products the ability to receive volume discounts. On items such as folding tables, plastic folding chairs, bistro chairs, Chiavari chairs, and our white resin folding chairs we offer volume discounts that allows prices per product to decrease as the quantity increases.