We always like questions on how to use our products. They're a great way to find out more about how our products are used in their intended environments and provides our readers with answers to common and not so common questions. We had a reader ask "how far apart should rows of chiavari chairs be?" I thought this was a great question to ask as it can go a long way to contributing to the ambiance of an event. From a guest's point of view, having chair rows too close together can be uncomfortable. While a guest may not consciously realize a row is too close together, it can cause subconscious tension which can contribute to a negative opinion of the event itself. Not only that but if a room is smaller, chair rows set too closely together can make it feel crowded. If chairs are spaced too far apart, guests won't be able to adequately interact with one another and the room feels like there is wasted space.
The rule of thumb for rows of chiavari chairs: 34 inches from chair back to chair back.
Our Wood Chiavari chairs are 15 ¾ inches deep while our Resin Chiavari Chairs are 15 7/8 inches deep. For this demonstration we will round up to 16 inches, leaving an additional 18 inches between the back of the chair row in front to the chiavari chair front of the row behind.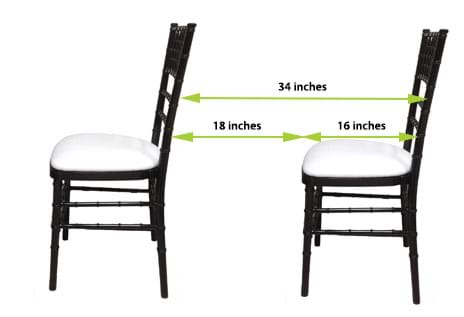 The rule of thumb for how far apart each chiavari chair should be in a row: each chiavari chair in a row should be spaced 2 inches apart so guests don't feel crowded or uncomfortable.