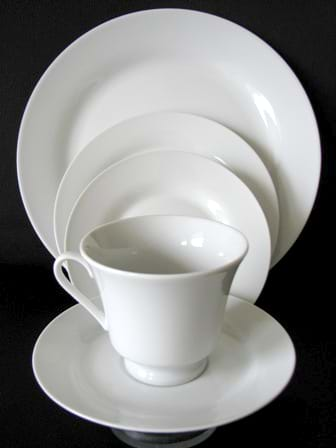 We often get asked what our most inexpensive (cheapest) dinnerware line is. There are many reasons that someone might be looking for cheap dinner plates. Sometimes it's a rental company looking to do a large event without breaking the budget; others are organizations looking to purchase dinnerware for their lunchroom; others still are restaurants looking for cheap plates for large occasional events. Whatever the case may be, when a customer is looking for a cheap dinnerware line, our go to product is our Pearl White Dinnerware line. For years now we have offered our Pearl White Dinnerware line as our entry level, everyday value, dinnerware line. With the Dinner Plate starting at $1.80 and other dishes having a similarly attractive price point, it is easy to see why Pearl White is such a great choice for large events. If you are interested in adding an inexpensive dinnerware line like pearl white things that you need to consider are the quality of the dinnerware, and growth potential that it offers to your business.
Quality
One of the key features beyond price is the quality of porcelain that Pearl White dishes are made with. Our Pearl White Dinnerware is all made of A/B grade porcelain. A/B grade porcelain is the porcelain grade that many high end brands. Even our more expensive dinnerware lines use A/B grade porcelain. So then what's the difference and why is Pearl White so much less expensive? The first reason is that Pearl White porcelain is missing the additives that our Quadrato, Hotelier, Ovali, and Polar White porcelain have. Porcelain additives like aluminum oxide make the porcelain stronger, more chip resistant, and therefore better suited to a commercial environment. As a result, Pearl White is closer to houseware quality, and it might not be the best option for a restaurant to use on a daily basis.
Growth Potential
One of the greatest features of Pearl White Dinnerware is the growth potential that it gives you. If you receive a request for an event with 500 people but you only have 100 Steelite plates, it may be financially difficult to justify purchasing 400 additional plates to win the event. If on the other hand you have the same scenario but with Pearl White Plates, suddenly it is an investment that you are able to make. This flexibility allows you to take on events that you may otherwise not be able to simply because the cost of the dinnerware is too high. It is also great for your customers because if a plate breaks, it is only $1.80 versus close to $20 for a Dudson or Steelite dish (depending on your supplier). This potential for growth is perhaps the most valuable asset of the Pearl White Dinnerware line since a relatively small investment goes a long way.
If you are interested in seeing all of the pieces available in the Pearl White Dinnerware line, please see here. If you are interested in adding Pearl White to your rental inventory, please don't hesitate to contact us for pricing and more information.