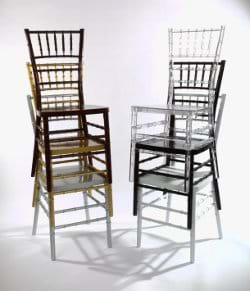 In 1807, Giuseppe Gaetano Descalzi from Chiavari, Italy was asked by the president of the Economic Society of Chiavari to rework some chairs. The result was the Chiavari Chair. And so, a chair that would change special events was born!
Although they are often mistakenly spelled Chivari Chairs, there is no mistaking their popularity in modern media. From award shows to reality competitions, Chiavari Chairs are popping up all over your television. Whenever a movie or tv show wants to imply elegance, class, or sophistication at the event they are filming, they lean on Chiavari Chairs. And there has been spillover from the media into reality. Chiavari Chairs are quickly becoming the Chair that brides and event planners clamour for.
Available in numerous colours and materials, it can be daunting to pick a Chiavari chair that will get you your best Return on Investment. Do you go with a standard white resin Chiavari chair knowing that it will be easy to decorate and is suitable for any environment, or do you go with natural wood Chiavari Chair in your more rustic facility.
Five things to know before investing in Chiavari Chairs:
1. Resin Chiavari Chairs that are factory assembled will be the clear winner in the strength category. Depending on their structure, some factory-assembled Resin Chiavari chairs are rated for drop tests of above 300lbs and can hold up to 1000lbs of static weight
2. Wood Chiavari Chairs can look more natural than their resin counterparts. Because they are made of wood that has been stained using furniture grade lacquers, some people find that wood chiavari chairs look more natural than their resin counterparts.
3. Aluminum Chiavari Chairs need a plywood-base cushion or you can warp the seat. Aluminum Chiavari Chairs need cushions because aluminum chairs are designed to be used only with something that provides support. If manufacturers were to manufacture aluminum Chiavari Chairs with seats thick enough to support the weight of a person, the chairs would be very expensive.
4. Knockdown chairs are cheap to ship but expensive to maintain. Knockdown chairs require constant maintenance to keep Chiavari Chairs from becoming wobbly. After every event you should be making sure that all screws or bolts are tight so that a chair doesn't collapse under a customer. Factory assembled chairs are designed to be put together forever, and use fasteners that their customers don't have.
5. Regardless of the Chiavari Chair material, these chairs are incredibly versatile and have unlimited decor options. With Chiavari Chairs you can change out chair cushions; use different coloured chair covers or sashes; or add bows in order to make the Chair fit the decor. The only limit is your imagination when it comes to decorating these chairs.
Event rental companies, banquet halls, party planners are all realizing the advantages of having Chiavari chairs available. As Fuzion Banquets, wrote:
"We had been receiving numerous requests for Chiavari Chairs for quite some time and now that we have them available in our inventory, we are seeing an increase in our bookings. The new Resin Chiavari Chairs allows us to meet our customers' needs without adding the additional time and expense needed to maintain a large inventory of Wood Chiavari Chairs."

Want to learn more about this fabulous chair and perhaps even see it yourself? Stop by our showroom, contact us for more information about National Event Supply's Chiavari Chairs, or if you're not ready to speak with one of our sales representatives, request a physical copy of our table and chair catalogue.