National Event Supply has been selling Wood Folding Tables, Plastic Folding Tables, Plastic Folding Chairs, and Resin Folding Chairs out of Vancouver, B.C. for almost a year now. From the very beginning we have been asked if it is possible to pick up an order at our warehouse in Delta, British Columbia. If the product is in stock at the warehouse, you can absolutely go pick up but here are some things you need to know first.
1. National Event Supply has partnered with Locher Evers International for our warehousing needs in Vancouver. Since it is not a National Event Supply operated warehouse, it is not possible for you to go to the warehouse to look at and to purchase products that you may be interested in. All orders must be placed with a National Event Supply representative at least 24 hours prior to pick up. In addition, Locher Evers is only open for pick-ups Monday-Friday from 8:30am to 3:30pm. To contact a representative or to simply ask us a question, please click here
2. National Event Supply unfortunately does not stock all of our product lines in Delta, B.C. at this time. We do however stock a wide variety of the Tables and Chairs that you see on our website and in our catalogue. If you are interested in a product, please don't hesitate to ask us about it. Even if it is not available in Vancouver, National Event Supply ships from Coast to Coast in North America on a regular basis. As a result we receive aggressive rates from our shipping partners which we are able to pass on to you. Also stay tuned to our blog to find out what new products are available in Vancouver!
3. When you pick up from the Locher Evers International Warehouse, here is where you should go for your order: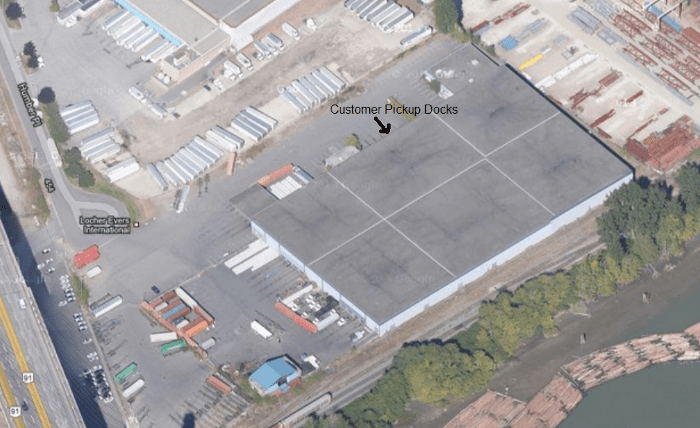 4. Additionally remember to say who you are/what company you are with, as well as what company you have purchased the product from (in your case National Event Supply). It also helps if you have a copy of your invoice or packing slip. The Locher Evers International facility houses products from many companies, as a result they will need these details to ensure the right product is released to the right person.