Like the best day to send emails, businesses need to know the best time to showcase offers – whether that be a sale or a new restaurant dining special. Caviar, a food ordering and delivery site that American independent restaurants can partner with to reach more customers, grow their sales and expand their customer base, used their internal data to determine "there is a noticeable upward trend in orders of categorically unhealthy items as the week progressed, with unhealthy food deliveries peaking in the middle of the weekend on Saturdays at 59 percent."
Same. Caviar. Same.
It makes sense even based on my own dining habits – by Sunday, I'm meal planning for the week ahead, purchasing healthy foods to make, and re-confirming my desire to eat healthy. Mondays to Thursdays tend to be wholesome grains, lean proteins and fresh fruits and vegetables. Come Friday though – let's face it, I'm exhausted – and I would say most of us are after a long work week. So I'm not interested in getting remotely close to doing anything other than ordering in a pizza or burrito (don't judge guys), sitting on the couch with my cats, and watching Netflix. (I'm a catch what can I say?)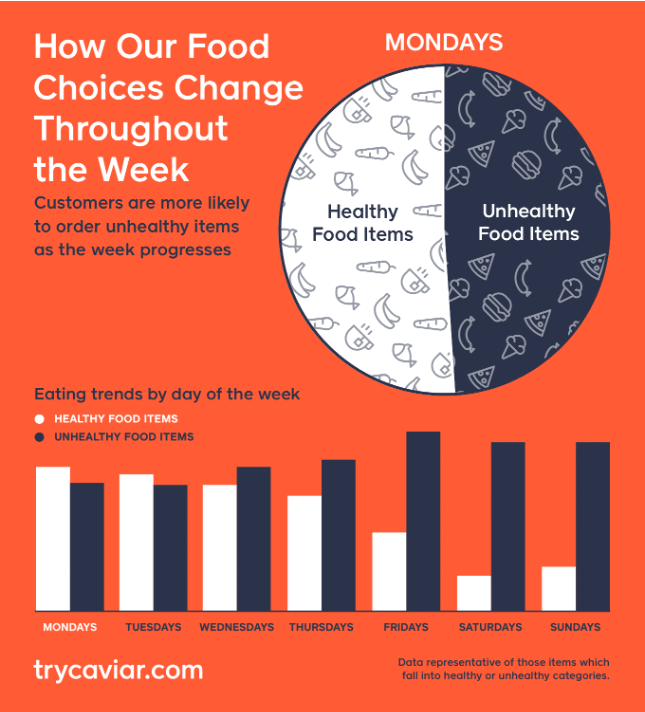 Judging by the infographic above, it makes sense for Restaurants and Caterers to offer healthier menus or specials towards the beginning of the week, with dining choices that appeal to our "let loose" weekend mentalities starting Fridays. Food for thought!