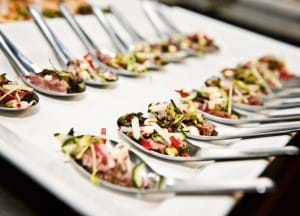 Image Source: Jim Lee Eventos
If you're a foodservice operator chances are you're always looking for new ways to invent yourself, stay top of mind to consumers, and stay ahead of your competition. Creating a catering arm to your business could be a lucrative and exciting opportunity to consider. Every day is a different challenge for caterers and you're constantly up to date with food and industry trends. Ensuring you have the tools necessary to make the transition from restaurant to caterer is vital. This blog post provides a checklist of 7 things restaurants and foodservice professionals should consider before starting a catering business.
What type of catering do you plan to provide? Do you plan to be off premise, on premise, third party, full service, drop off, mobile / food trucks? Keep in mind that if you're a restaurant with a specific style you need to ensure the type of catering offered works well with your restaurant style. For example Takeout/drop off/Third party/mobile catering lends itself to fast food & fast casual restaurants while Off Premise and On Premise lend itself to casual dining, family/buffet and fine dining
Where do you find service & culinary staff? Often servers aren't serving as their career and so availability can often be trying. Make sure you have a good rapport with staffing agencies or other caterers across the country. Often your slow season doesn't coincide with theirs and those that are willing can serve events across the country.
Do you have the proper licenses in place? Make sure to check with your municipality to ensure you have any or all of the following licenses: the Liquor Sales License with catering endorsement, Off premise catering license, insurance coverage, business license, special event liquor license, health inspections, insurance coverage, food handler certificate etc.
Do you plan on serving liquor and if so, how do you plan on offering liquor? Full bar, beer & wine only, mixer packages, will you choose a corkage fee?, cash bar, package vs. consumption
Do you want to own your own equipment or outsource (rent) only? If you want to own, where can you find the catering supplies including serving platters, serving bowls, porcelain dinnerware, stainless steel flatware? If you want to rent, who do you know or who can you build a relationship with in the party rental industry?
How can you ensure food sanitation and safety when transporting food to the middle of the woods for instance?
Do your menus include options for religious (kosher or halal), vegetarian or vegan, sustainable, allergies, organic?
An additional item to consider – ensure your customer is prepared for the service charge – you need to remind them they are paying for a moving restaurant and that includes the cost per hour for servers and other wait staff.
Hopefully this blog post provided you with some food for thought to begin working through the steps necessary to starting a catering business.
If you're interested in a quote for any of our supplies for catering including folding tables, serving platters & bowls or stainless steel flatware: