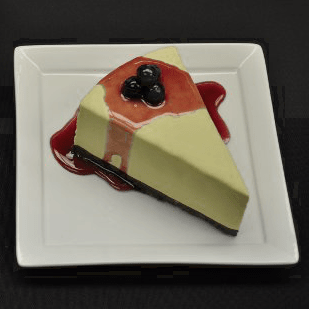 Porcelain Dinnerware can be a tough nut to crack. Sure, you have great round plates that rent reasonably well, but so do a lot of your competitors. What you need is something that will catch your customer's eye, something that not all of your competitors have, and something that can make a statement on a tabletop. What you need is Square Dinnerware! With that said, here are three reasons why you should consider investing in square dinnerware.
1) It's Not What Your Customers Have!
Go into the average kitchen and take a look at the plates in the cupboard. I bet that they're round. Nothing makes an event feel different or special than something other than ordinary. Round dishes are normal and ordinary. Square dinner plates? They're different and extraordinary! While Square Plates won't guarantee an extraordinary event, they'll help set the tone of the event for your customer. Their guests will look at their plate and be like "Yo dog, this plate is totally square. This event is off the hook!" or at least they do in my unfinished Great Canadian Novel "The Hunger Games: Four Weddings and a Funeral." Seriously though, giving your customers something special can get them in your door and get your products into their event.
2) It's not what your competitors have!
If you've got competition in your town, city, metropolis, centre of the universe, having something different can help you win business. Square dinnerware can help you stand out from the crowd and provide an important point of difference between you and every other rental company in the area. If customers can get the unique dinnerware from you, they may also choose to rent chairs, tents, tables, heaters, and a whole slew of your other rental products. Differentiating yourself from your competitors can improve your bottom line and drive rentals to other segments of your business. And who doesn't like making more sales?
3) They've got the Look!
If you've got catering customers looking to make a splash, or event planners who want to make their event memorable, square dinnerware can help make a table go from blah to boom. Square dinnerware can be mixed and matched with other unique pieces to create a table to remember. Instead of a round salad serving bowl, they could go with a square salad serving bowl. Why use an oval platter when you could use a rectangular platter. And they don't have to just stick with square dinnerware, small rectangular platters inject a bit of pizzazz into a plate of appetizers, or a fantastic dessert. We eat with our eyes, and plating a gorgeous piece of meat on a square dinner plate can make a good meal great! Don't believe me? Restaurants are moving to square and rectangle plates because they add a little va-va-voom to the table.
If you think you might be interested in Square Dinnerware why not check out our Quadrato Line. Our Quadrato Line is a full service line with four different plate sizes, eight different bowl sizes, square and rectangular platters, and all the accessory pieces needed for a table that will drive your customers wild! Quadrato Dinnerware is heavy-duty porcelain dinnerware that will excel in a commercial or rental situation, while costing a fraction of what the square lines from Dudson, Steelite, and Royal Daulton which you typically buy at your local Restaurant Supply Houses charge.