As one of the most prone industries to joint, muscle and back pain associated with the long hours of standing, line cooks, dishwashers, bussers and chefs need to have the best shoes possible. They need to be comfortable, while providing ample support for the long hours of standing while providing proper traction so no falls or slips occur. Here are the best kitchen shoes for restaurant staff as recommended by other chefs via this Reddit thread.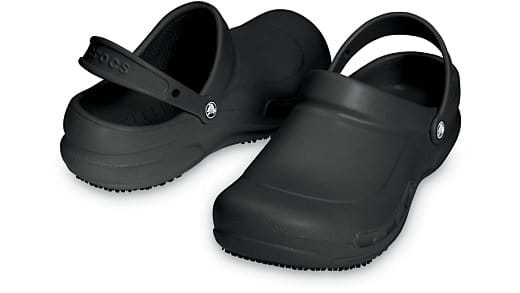 Crocs Bistro clogs were made with foodservice and hospitality workers in mind. They feature slip-resistant tread, enclosed extra protective toe with thicker area across top of the foot for protection against spills, odor resistant and easy to clean. They come in women's sizes from 6-12 and men's sizes 4-12. No half sizes available.
According to Reddit user lernington they're "cheap, comfy, non-slip, and you can run them through the dishwasher."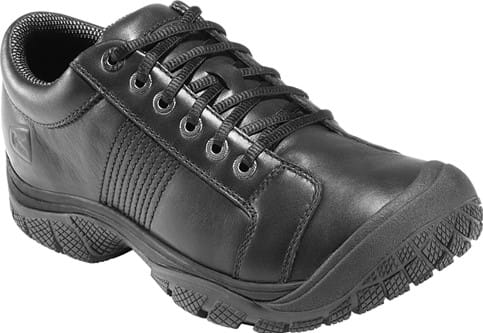 Another shoe made with foodservice and hospitality in mind, they claim to have all-day comfort, non-slip sole, wipe clean for efficient care, and water resistant leather. The shoe features memory foam inside the shoe to cradle your foot. The men's version comes in half sizes from 7-11.5 and then full sizes from 12-14. The women's version comes in half sizes from 5 to 11.
According to a website review by kharvey "As a chef for 20+ years, this has been my GoTo for more than six years. Great comfort, great resistance to slip, and great look, too. I have very sensitive feet, and these shoes are so comfortable that I wear them EVERY DAY, even when not in the kitchen."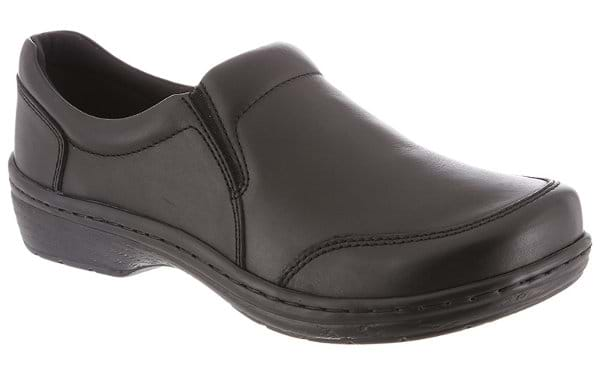 Klogs are flexible, comfortable shoes that are easy to put on and take off. The footbed provides soft cushioning and great arch support while being antimicrobial, odor-resistant and lightweight. They also are orthotic friendly allowing for complete removal of the footbed inserts. The soles are slip-resistant and shock absorbing. Klogs come in black and brown for men and black for women. Men's features half sizes from 8-14 in medium width and half sizes from 9-14 in wide width.
According to Reddit user inoeth "I wear Klogs, which are decent kitchen shoes that'll last you just as long as your birkies for half the cost."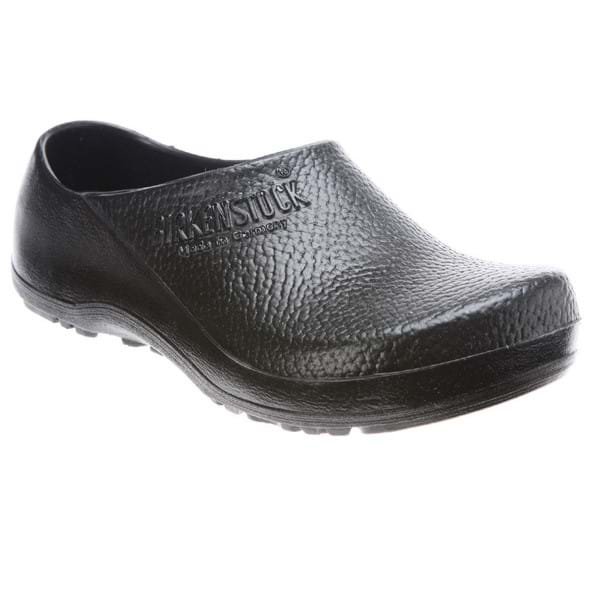 The users on Reddit didn't specify which Birkenstock they wear, so I chose a birkie that has a covered toe for protection and safety. The professional line of Birkenstocks named the Profi Birki has a removable and moldable footbed that absorbs shock to keep you comfortable all hours of the day. It is a flexible, durable shoe that has a repairable sole and has arch support that curves to your unique foot shape. Sizes 35-48 are available in unisex sizing. You could also choose a traditional birkie clog such as this one with a wooden insole.
NSFW User review from Reddit User poepower "Birkies are fucking hell for about a month with that wooden insole. After they get adjusted to your feet holy shit its like walking on nothing."