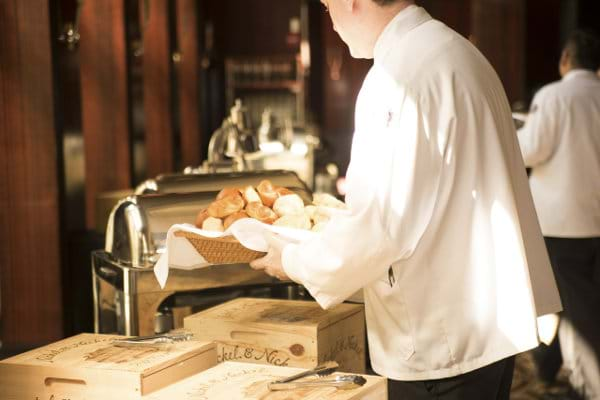 Let me preface this blog post by saying we do not sell restaurant uniforms. We do however sell tabletop supplies to restaurants and other hospitality companies across Canada. As a company, we're all about providing our customers with need to know, relevant information so they can easily and efficiently make decisions for their foodservice operation which is the reason for this post.
Because restaurant uniforms are one of the many ways guests judge a restaurant, ensuring the front of the house staff is putting their best foot forward is of utmost importance to any operator. It's human nature to want the best of whatever product you're purchasing so we've rounded up an unbiased viewpoint of the best suppliers of restaurant uniforms in Canada.
1. Canadian Linen and Uniform Service
Headquartered in Toronto, ON Canadian Linen and Uniform service is one of the largest uniform and linen supply companies in North America. They operate more than 115 production facilities and service centers throughout the US and Canada and service nearly 150,000 customers every week. They service the hospitality, automotive and manufacturing industries. One of the more flexible suppliers out there, they offer full service rental, flex lease and purchase of restaurant and chef uniforms. They offer customizations, and in some instances laundering, repairs and upgrades.
2. Cintas
Headquartered in Cincinnati, OH, Cintas is a global company operating more than 430 facilities in North America, Europe, Latin America and Asia, including six manufacturing plants and nine distribution centres. Some of their more well-known customers include McDonalds, W Hotels and Royal Caribbean Cruise Lines. Like Canadian Linen and Uniform Service they give restaurants the option to rent, lease, buy or have uniforms designed for a custom one of a kind look. Personalization is also available.
3. Lotus Uniforms
With warehouses in Vancouver, BC and Toronto, ON (just like us!), Lotus Uniforms has an ecommerce website allowing restaurants to shop 24/7 for whatever restaurant uniforms they desire. They offer restaurant uniforms, aprons and chef wear with free shipping on orders of 48 + pieces. They provide logo work in the form of embroidery, screen printing and digital printing.
4. Blue Riband Uniforms Inc
Located in Quebec, Blue Riband Uniforms inc features an impressive client list including (but not limited to) Etihad Airways Lounge staff, Compass Group, The Ritz-Carlton, Hilton Hotel and Sunwest Aviation. They have a wide range of bar & banqueting uniforms, aprons, chef and food preparation uniforms. They also offer uniform personalization in the form of tabbing, badges, screen printing and embroidery.
5. Chef Works Canada
One of the only companies on this list that caters exclusively to the foodservice industry, Chef Works is headquartered just outside of Toronto and has over 200 distributors across the country. They have a fantastic style guide that gives foodservice operators options to visually decide on, an ecommerce site to shop 24/7, personalization available and some of the broadest range of restaurant uniforms around. They don't offer rent, lease or laundering options if that is a need of yours.
Share your favorite suppliers of restaurant uniforms that we missed in the comments or on social media.