Clear Chiavari chairs are a fantastic décor item as they naturally match any colour scheme required at a venue or wedding. Similar to white resin Chiavari chairs, they're a versatile chair to have in your rental inventory due to their chameleon tendencies. We like to ensure our customers know exactly what they're looking to purchase and because of this, often write blog posts on the problems other companies may face with products. It helps level-set expectations and allows for no surprises. Read on for the problems commonly faced with clear Chiavari chairs.
Not as strong as resin Chiavari chairs
This is due to the fact they don't have a traditional steel core like our resin Chiavari chairs have. They also are made of a different kind of material – polycarbonate which gives the chair its clear look.
Chair has bubbles in it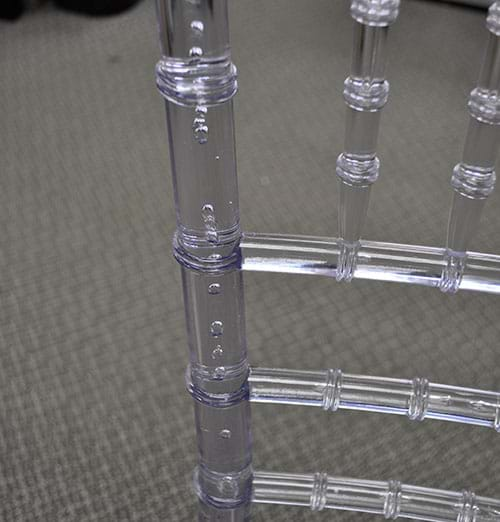 While having bubbles in the chair doesn't cause problems structurally, some consumers don't favour the look of bubbles in the chair. We have had a few party rental customers indicate that some of the more selective bridal customer's would rather go with a solid chair colour than the clear because the bubbles bug them. Again not a huge problem, but something to be aware of. Not everyone will like the chair, but the same can be said against a solid colour Chiavari.
Some clear chiavari chairs have a flat seat and squared off rails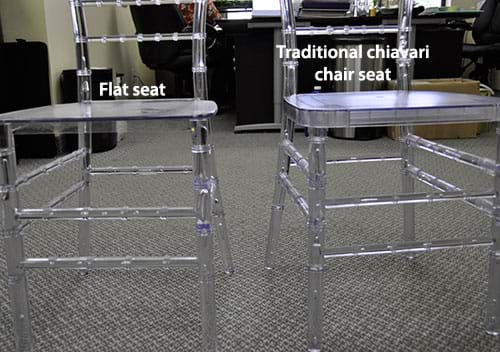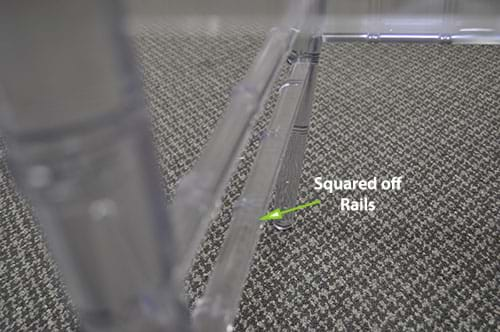 Depending on the supplier, clear Chiavari chairs can have a flat seat and squared off rails instead of circular rails and a more traditional looking Chiavari seat. Brides that have grown up coveting Chiavari chairs tend to not like this style of Chiavari as it doesn't have a true Chiavari chair design.
If you're interested in a quote for clear Chiavari chairs including shipping to your location: