The snow is quickly receding here in Toronto, as sunny days, rain, and temperatures in the high single digits are all doing their part to eliminate snow piles. Any day now, I expect the trees out front of our building will start budding, and the heaters will be turned off. Sure, we haven't even had Easter yet, but the evidence is out there—winter is ending!
Tradeshows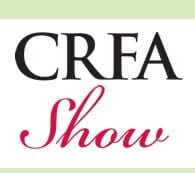 Winter is not the only thing ending, the NES trade show season is coming to a close, with the Prairie Regional Trade Show and Quebexpo the only shows remaining. We've been to BC for a couple of trade shows, Las Vegas for The Rental Show, and exhibited at The CRFA Show in Toronto again this year. The trade show team had a great time seeing everyone at all of the shows. The trade shows that we do are always an opportunity to go out and see people that we wouldn't be able to see in our offices, and to let them examine and touch our myriad of products. Plus, the trade show team often takes sample products out on the road to get feedback from our customers. If we saw you at any of the shows we exhibited at, we'd just like to thank you for stopping by and if you didn't manage to see us, we hope we'll see you next year!
It's almost Patio Time
Today has been a grey day, and with the time change, things have been a little subdued. But that hasn't stopped me from closing my eyes and imaging that I'm sitting on a patio, drinking a beer, and catching some sun. And as it just so happens, we have three things that can make patio time great.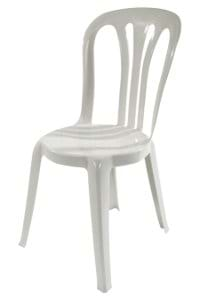 National Event Supply has stocked our NES Reliable Bistro Chairs in black and white for over 5 years now. These chairs are similar to the Grosfillex Miami Bistro Chair, but feature a more elegant back and different colour choices. It's a comfortable chair, suitable for lazy afternoons on a patio, or around a table at an outdoor wedding. The NES Reliable Bistro Chair is incredibly strong and features legs that won't do the splits regardless of the surface the chair is on. They're easy to keep clean and a favourite for outdoor weddings and on patios from Victoria to St John's. We've currently got a large supply of the chairs in both black and white in our Toronto Warehouse, and they are ready to ship from coast to coast.
Now that you've got seating for your customers, it's time to look at glassware. National Event Supply has our inexpensive Eclisse glass stemware that would perfect for any patio parties. Our Eclisse line includes everything from 5oz Champagne Flutes to 14oz Beer Glasses. If your customers are more interested in wine, there's three sizes of wine glass to meet your needs. So whether you're serving a nice Chablis or a fine microbrew, National Event Supply has the glassware that you need to slake your customers' thirst.
Finally, National Event Supply has a new product that we're proud to announce for 2013, Sol. Sol is a G2V spectral class star, with a diameter of 1,392,684 km. It's an almost perfect sphere of hot plasma and magnetic fields, and is the perfect companion to a cold beer on the patio. Due to the cloud cover and drizzle, Sol is not available in the lower mainland of Vancouver.
If you haven't started planning for your summer, now is the time. If you've got any questions about any of our products, please don't hesitate to contact us. We' always happy to answer any questions that you may have.