You only get one chance to make a good first impression.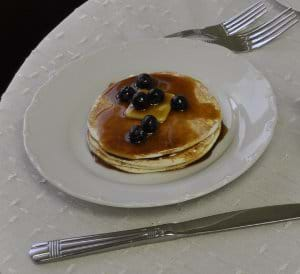 When it comes to sales and retail, visuals are the key element to help you sell your product. Look at it this way, if you were to walk into a bakery and there were two of the same cakes on display, would you pick the one that has very little embellishments, or the one that looks extremely extravagant? Now if you're a foodie like me, you'd probably take either one (after all, it is cake!) but to everyone else, the cake that looks like a million bucks will probably be the first one to sell. The theory is quite simple; people love things that look great and are more likely to purchase them when they do. Whether its cake or something simple like a plate that's placed in a gorgeous table setting, it's a theory I wanted to test in our very own showroom.
The first step to improve any showroom is to know your product. What is it used for? How much does it cost? Is it a popular item? All these questions will help determine how they can be merchandised. My entire first day at National Event Supply was just that, I got to know the product and it was easier for me to determine where everything should go. Keep in mind that your customers will be entering this room and basing their first impression on how your product looks. Make them "ooh" and "aah" over your product and make it easy for them to find what they are looking for.
Moving on to the second step: get creative! Your product may be in great order and starting to look great but it still needs a touch of life or personality. Using props is a great way to emphasize product. Seeing as our showroom is mostly comprised of tableware items, my first instinct was to bring in food! Now it's not what you think, I didn't go home that night and bake for hours to bring food into the showroom (although I'm sure my co-workers would've liked that), we bought fake food from Two Hot Peppers Inc., a company that makes fake food for merchandising purposes. There is one major reason why you should use fake food instead of real food: real food looks and smells great on the first day, but if you leave it there for more than a couple days, you'll be attracting more than customers. Amongst other things, fake food has a much better "shelf" life and you'll be able to use it multiple times and move it around as you please. But don't let fake food be your only inspiration, feel free to use risers, signage and anything else that will create an atmosphere in your showroom.
This brings me to my last point: stay true to your product. There are so many cool props out there to use for merchandising, but stick to something that will compliment your product, not distract from it. Try to create focal points within your merchandising, and make sure that what you are actually selling is the "hero" in your display. There's nothing worse than falling in love with a product that really isn't sold from that store. I'm not saying that you can't use little accessories here and there to help decorate your display. For example, if you were doing a fall tabletop display and you want to use leaves and put a few apples in the centre for a centerpiece, go for it! Just remember that your product is the most important part of that display and adding too many decorations can be confusing to your customer.
For example, we used a simple pasta dish, a fancy green salad and a bowl of deep red borscht to highlight the versatility and simple elegance of our Hotelier Dinnerware. Our Hotelier line of commercial-grade dinnerware is designed and manufactured to last in a commercial environment. The fake food that we used amplifies the elegance of the simple white pattern, allowing the strength and durability to shine through.
After all that is said and done, tah-dah! You have a beautifully updated showroom. I encourage all of you to try something new in your own showrooms. Be different, be creative and merchandise your product to get people talking about it. And if I can leave one more piece of advice, make sure customers don't try to eat the fake food, they might break a tooth.