Being an event venue or party rental company means hundreds upon hundreds of plastic folding chairs around at any given time if they're not already in use. One of the main issues with folding chairs is finding the proper folding chair storage in order to ensure your facility is organized and your product is readily available to transport either to another room or into your trucks at a moment's notice. With the need for ample storage, one of the questions we often get asked is:
How do you recommend storing folding chairs?
There are 3 different ways to store folding chairs, which tend to be dependent on storage space and how the folding chairs will be used. Check them out below:
Folding Chair Cart (also known as a Folding Chair Dolly)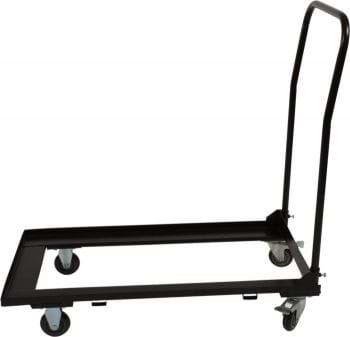 Folding chair carts are available in regular wheel formats and airless wheel formats. Carts with regular wheels allow easy transport on hard surfaces such as concrete or pavement however they can present a challenge when stacked full of chairs and someone attempts to roll them across the grass. Because of the hardness of the wheel they tend to sink into the grass when rolled across it – making it a pain in the derriere if you're a party rental company attempting to drop off chair carts on grass. The folding chair cart with airless wheels solves this problem by easily allowing a smooth transition between hard and soft surfaces. Both carts hold up to 70 chairs and are best for companies who need to transport their chairs but don't have a large floor space to store them as they take up more space vertically than width and depth wise.
Folding Chair Racking: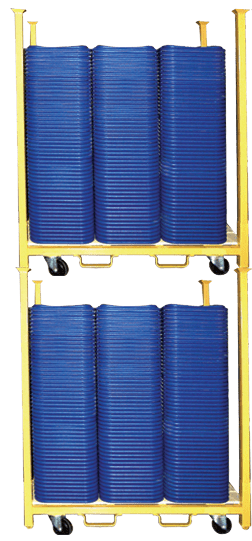 Photo source: eventequipment.com
Folding chair racking are designed for large party rental companies who need racking systems to stack up to 150 plastic folding chairs per rack unit. Companies can stack up to three racking units (one on top of the other), manoeuver them with forklifts from the warehouse to trucks and then from trucks to site via caster wheels.
Hanging Folding Chair Dolly:
The hanging folding chair dolly is used in schools and party rental companies to save on floor space. It features two rows of chairs with three chair stacks per row. They also have wheels and hold between 56 – 84 chairs.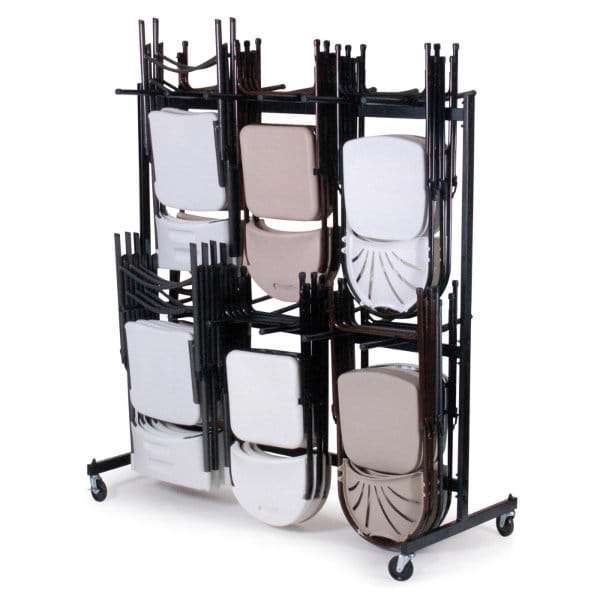 Photo source: hayneedle.com
Since each method is a matter of personal preference we don't tend to state whether we feel one option is better than the other. There are party rental companies who swear by folding chair racks and those that swear by folding table carts / dollies. It also depends on the number of folding chairs you plan on having in inventory at any one given time and the type of events you service. We hope this post helped showcase the different options you have available for folding chair storage so you can preserve your investment for years to come.
Are there any storage options for folding chairs that we have missed? Let us know in the comments!