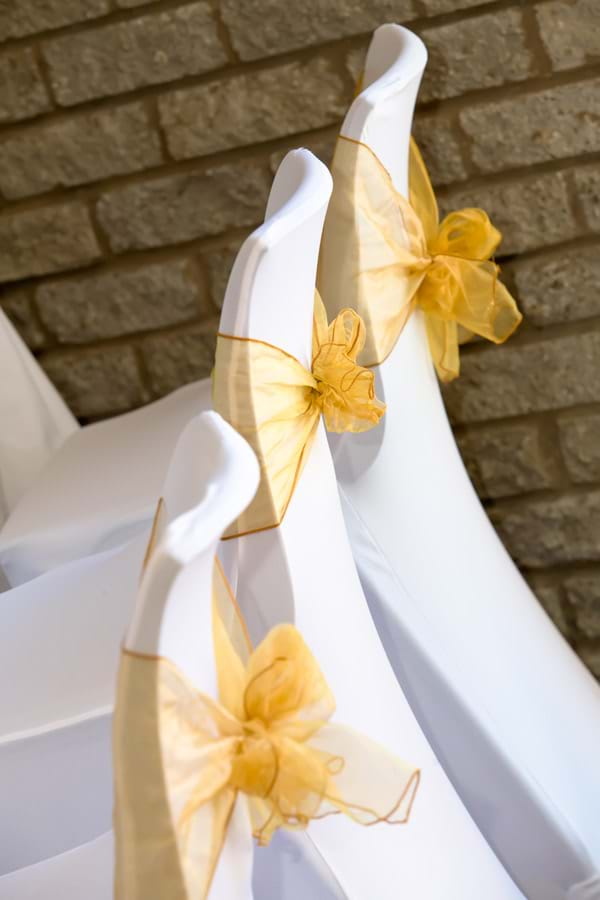 Wedding chair covers are a great addition to a party rental business or an event venue. Not only does it help increase your average invoice size but also increase your existing event chair investment. There are many different types of wedding chair covers that exist on the market – so understanding the difference between them is important for best meeting your needs. Check out the differences below:
Generally made of a 180 gsm polyester fabric, polyester banquet chair covers offer a casual look to round or square backed banquet chairs. The most popular polyester banquet chair cover is for the tear drop backed banquet chair. The chair features a round back and looks great with a chair cover on it – to dress up the event.
Spandex banquet chair covers are generally made of 190 gsm spandex fabric. They offer a more sleek, contemporary look for event chairs. The most popular spandex banquet chair covers is for the tear drop backed banquet chair. The chair has a round back and can easily be laundered. They're a breeze to put on and need no ironing to attain that picture-perfect look.
Satin Banquet Chair Covers
Satin banquet chair covers are made of satin fabric. They often are available in a number of colours and give a flowing, elegant look to a banquet chair. They tend to have a shine to them and reflect light well.
Spandex folding chair covers are similar to the spandex banquet chair covers in that they are also made of 190 gsm spandex fabric. They tend to fit a standard Samsonite style plastic folding chair – however there are also others that fit the more industrial style metal folding chairs. The spandex folding chair covers are great for dressing up a standard folding chair.
Universal Chair Covers
Universal chair covers work with any chair as they can be tied at the back to make the fit a more slimming line. Because of its universal fit, it is a very easy to use chair cover. Simply place over the chair, tie and go.
Chiavari Chair Covers
Chiavari Chair Covers tend to be sheer in design to allow the elegance and luxury that chiavari chairs are synonymous with shine through. They're often embroidered, ruffled, or feature a sash to add a bit of extra pizazz to the event without allowing the Chiavari Chair to be seen.
If you're interested in a quote for our spandex banquet chair covers, spandex folding chair covers or polyester banquet chair covers: